This Christmas Fir Candle elicits the glow of the fire on a cozy cabin night, mist traveling through the conifer trees outside. With fragrances reminiscent of Pacific Northwest's dense fir forests, enliven your senses with the familiar scents of freshly cut evergreen trees.
Made with our signature essential oils, steam distilled in our Oakland, California warehouse from upcycled Christmas trees, domestically sourced soy wax, and a natural cotton wick. This candle burns clean and fills your space with the unmistakable seasonal scent of fragrant evergreen trees in the crisp winter months. Learn more about the Christmas Tree Project here.
Size: 7 Oz
Geography: Forest
Scent Notes: Tangy Resin, Fresh Evergreen Boughs, Damp Forest Floor
Ingredients

Glycine max (Soy) Wax, Abies procera (Nobel Fir) Essential Oil, Pseudotsuga menziesii (Douglas Fir) Essential Oil, Abies grandis (Grand Fir) Essential Oil, Natural Cotton Wick
How to use

Burns for approximately 40 hours.
For best results with each use, trim your wick to ¼" and allow wax to melt evenly.
Burning Details

As Always:
Sustainably sourced and harvested
Free of synthetic fragrance, dye, or preservatives
Formulated without parabens, phthalates, petrochemicals
Leaping Bunny certified cruelty free
Made with care in California

Burn no longer than 4 hours at a time. Vessel will be hot when candle is lit, so allow to cool before re-lighting. Never leave burning candle unattended.
Keep out of reach of children, pets, and flammable materials.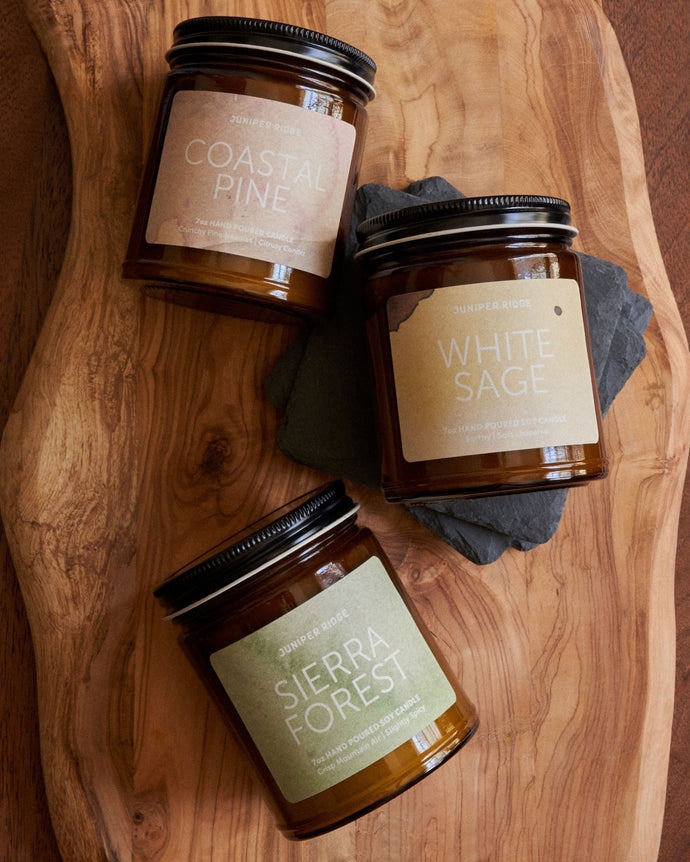 How to Care for your Candle
1. Trim The Wick: Before lighting, trim the wick to 1/4" using scissors or a wick trimmer for a clean, safe burn and increased candle lifespan.
2. Let It Burn: Allow the wax to melt to the edges of the jar every burn to prevent tunneling - especially important on the first burn!
3. Safety First: Never leave a lit candle unattended, and don't burn for more than 4 hours at a time.
4. Reuse: once the candle is finished, clean out the jar and give it another life. They are perfect in your kitchen or bath.