THE WESTERN WILDERNESS DEFENSE FUND: A TRADITION OF GIVING BACK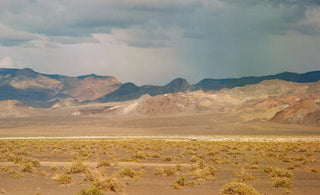 You could always find our founder, Hall Newbegin, out on the trail leading a hike and teaching others his wildcrafting knowledge. Throughout the years we have discovered and connected with a vast network of like-minded organizations. With values near and dear to our hearts, they work to protect our wilderness through restoration, conservation, community building (and much much more).
Donating to these organizations has always been a core foundation of the company. Hall called it the Western Wilderness Defense Fund, and for the past twenty-two years we have been able to donate the greater of 1% of our sales or 10% of our profits at the end of every year to help fund the fight in the year to come. Although we started this journey by writing very small checks, you have helped us to donate more than a quarter of a million dollars in total.
We are grateful to be able to continue our tradition of giving. This year we were able to add a few new organizations to our list of donation recipients, including some causes close to home.
---
SHUUMI LAND TAX
The Shuumi Land Tax is an annual contribution that directly supports the work of Indigenous women-led Sogorea Te' Land Trust, building community and resources for current and future Indigenous people in the Bay Area through a variety of outreach programs and initiatives.
"Through the practices of rematriation, cultural revitalization, and land restoration, Sogorea Te' calls on Native and non-native peoples to heal and transform the legacies of colonization, genocide, and patriarchy and to do the work our ancestors and future generations are calling us to do."
FRIENDS OF SAUSAL CREEK NATIVE PLANT NURSEry
A volunteer-based non-profit organization, Friends Of Sausal Creek dedicates their efforts to the health of the Sausal Creek Watershed through community engagement and education. They also operate a Native Plant Nursery where they propagate and grow plants native to the watershed.
"Our mission is to restore, maintain, and protect the Sausal Creek Watershed. We educate future generations, involve the community in environmental stewardship, and collaborate with agencies and other nonprofits to have a positive impact on the local ecosystem."
---
We are looking forward to the positive impact these organizations will have in 2023, and encourage you to visit and explore the list below. If any of them resonate with you please don't hesitate to get involved!
JUNIPER RIDGE 2023 WESTERN WILDERNESS DEFENSE RECIPIENTS