SUSTAINABILITY AND UPCYCLING FOR THE HOLIDAYS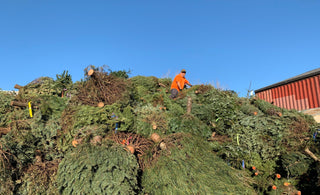 200,000 Trees Upcycled AND Counting
Throughout history, various cultures have looked to the evergreen tree for comfort during the longest nights and coldest temperatures, celebrating all kinds of winter traditions with the reassuring scent of conifer trees. This project is a particular labor of love for our crew that creates a scent that can fill any room with the generous and warm energy of the winter holidays.
For over 10 years, the Juniper Ridge team has been working to turn the unused trees from the holiday season into something wonderful. Our team sets out on December 26th, collecting the unused holiday trees from lots in the area. Over the first weeks of the new year, we upcycle the grand, noble and white fir trees, chipping over twelve hundred a day over a little more than six weeks.
What would have been waste created by the Christmas tree industry becomes the most authentic holiday tree scent available. The Christmas Fir products are the distilled essence of the holidays itself, wrapped in positive intention, love and the spirit of celebrations of the past. We're able to transform over 20,000 trees every year – that's more than 200,000 trees saved from the landfill since we started this project!
CONVERTING WASTE TO WONDERFUL SCENTS
Our team loves dreaming up new scent profiles from tree industry waste. We love this line in particular because, during times of higher consumption and gift-giving, it provides an option that contributes to diverting waste, rather than creating additional excess.
In addition to the holiday tree upcycling, we work all year with different organizations, from family-owned businesses like our Christmas tree partners, to the forest service and Caltrans. Whether the trees are removed for fire mitigation or a by-product of holiday celebrations, we're happy to do our part in making sure they aren't felled in vain.
If you're thinking about ways to make your holiday tree decorations a bit more sustainable, it's surprising, but the truth is a real Christmas tree is often the most sustainable option (outside of using the Juniper Ridge Christmas Fir line), as long the tree doesn't end up in a landfill.
There are initiatives all over the country to ensure that trees get a second life, whether as compost or to help prevent coastal erosion. Make sure to check out what services are available in your community, so you can enjoy your holidays sustainably.