Coastal Pine Essential Oil Candle
Our Coastal Pine Essential Oil Candle illuminates your home with fragrances reminiscent of the fog-drenched coastal forests of California and Cascadia, where Coastal Pine and Cascade Fir form a canopy over the ferns and lichens that carpet the ground. These Essential Oil Candles are hand poured in our Oakland, CA workshop using pure domestically sourced soy wax and a natural cotton wick. Crafted with clean, natural ingredients and scented with our signature steam-distilled essential oils, our candles are a clean and cozy way to bring the outdoors into your home.
Size: 7 Oz.
Geography: Coast
Scent Notes: Sticky pine needles, citrusy conifer, crisp ocean air.
Ingredients

100% pure soy wax, steam distilled essential oils, natural cotton wick.
How to use

For best results with each use, trim your wick to ¼" and allow wax to melt evenly.
Burning Details

Burns for approximately 40 hours.

Burn no longer than 4 hours at a time. Vessel will be hot when candle is lit, so allow to cool before re-lighting. Never leave burning candle unattended.
Keep out of reach of children, pets, and flammable materials.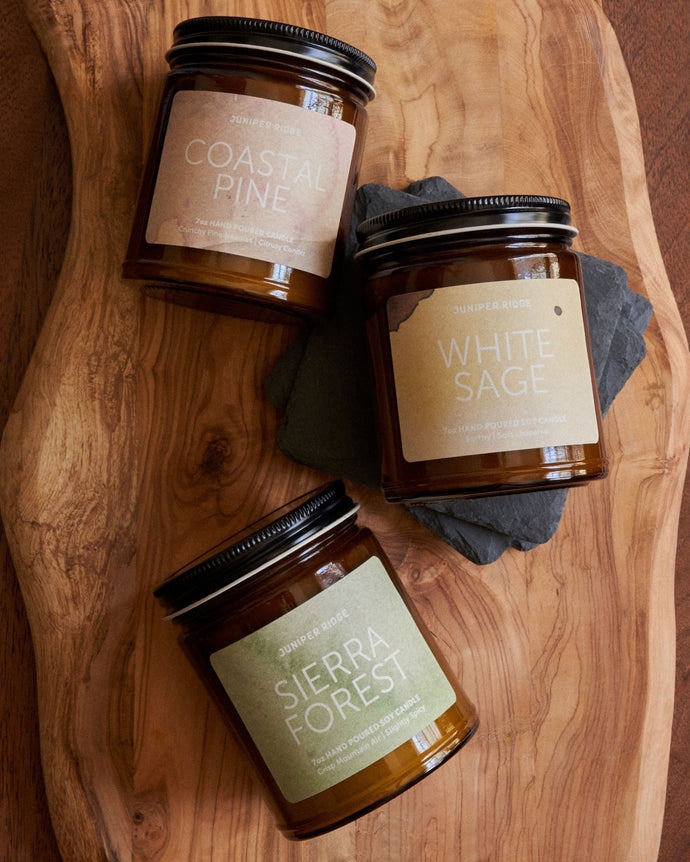 How to Care for your Candle
1. Trim The Wick: Before lighting, trim the wick to 1/4" using scissors or a wick trimmer for a clean, safe burn and increased candle lifespan.
2. Let It Burn: Allow the wax to melt to the edges of the jar every burn to prevent tunneling - especially important on the first burn!
3. Safety First: Never leave a lit candle unattended, and don't burn for more than 4 hours at a time.
4. Reuse: once the candle is finished, clean out the jar and give it another life. They are perfect in your kitchen or bath.