SUPER BLOOM IN A BOTTLE: TOPANGA CANYON FIELD LAB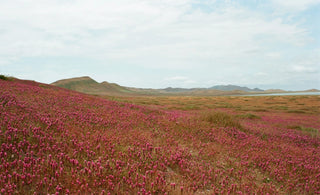 We wait for it year after year, and when it comes, we are never disappointed. The wildflower bloom along the coastal canyons in California, from Baja to Big Sur, begins with a rumble of poppies and lupines and finishes with an explosion of acres full of hummingbird sage and wooly bluecurls. Our Topanga Canyon Field Lab is inspired by this phenomena and its unpredictability.
At Juniper Ridge, we channel our love of the wilderness and wild spaces into everything we do, and our Field Labs are the purest expression of that love. Inspired by our explorations and the magic we find, we endeavor to capture the subtle combinations of scents unique to those places in those moments, through the nostalgic properties of scent.
Most of our Field Lab products are one-offs, but our Topanga Canyon Field Lab is a rotating project for us because each wildflower bloom is unique year after year. The air is alive with all the sweet goodness that we've come to know about this place, and buzzing with excitement for what is yet to be discovered. This year it was a super bloom.
The California super bloom is a natural phenomenon that occurs when a combination of heavy rainfall, warm temperatures, and other environmental factors create ideal conditions for wildflowers to flourish. Millions of visitors come to witness the vibrant colors and breathtaking landscapes of the California super bloom, which can be a once-in-a-lifetime opportunity for some to connect with nature in a unique and unforgettable way.
However, it's important to plan your visit carefully to ensure that you have the best possible experience and minimize your impact on the delicate ecosystem.
Before setting out to explore the super bloom, it's important to do some research and plan your itinerary ahead of time. Some of the best places to see the wildflowers include Joshua Tree National Park, Anza-Borrego Desert State Park, and Antelope Valley California Poppy Reserve, and of course, Topanga Canyon. There are also many lesser-known locations that offer incredible views; we suggest befriending some locals.
While you're exploring the super bloom (or any wild place), it's important to stay on designated trails and avoid trampling on the flowers or disturbing the wildlife. Always bring plenty of water, sunscreen, and other essentials (like snacks!) to keep yourself protected in the warm, dry climate.
Remember, the super bloom is a natural event that cannot be guaranteed or predicted with complete accuracy. While it may seem disappointing if you arrive too early or too late to see the wildflowers at their peak, look closer and you are sure to find the wild beauty that is always there.
Our Topanga Canyon Field Lab is inspired by the phenomenal bloom of California's coastal mountains, and driven by the unique display each year. The unpredictability is what makes it so special.
Coastal Mist, Earthy Florals, Tangy Amber
Topanga Canyon Room Spray pays homage to the transcendent wildflower meadows of Coastal California. Delicately blended to capture the rapturous scents found within the area's resonant nectars and sweet breezes. A clean, quick solution to many household needs, our room spray is an all-natural replacement for more chemical-heavy odor eliminators. Use it to enliven a room, on linens, on upholstery, or anywhere that may need a little reviving.
Earthy Florals, Tangy Earth, Soft Amber
Deep in the peaks and canyons of California's Central Coast, wildflowers and aromatic plants burst into bloom, sending an intoxicating bouquet through the air. This incense is for people who enjoy sitting around the campfire. No charcoal, no perfumes, no additives, and no petrochemicals. Burns clean and fills your space with the unmistakable scents of California's floral canyons at the end of a long day, sitting around the campfire.
(Un-lit) Minty Florals, Citrus Peel, Soft Amber
(Lit) Delicate Florals, Tangy Earth, Soft Amber
Fill your home with the rich and complex scents of wildflowers warmed by the coastal Californian sun. Hand poured domestically sourced soy wax scented with steam-distilled essential oils, our Topanga Field Lab Candle is the perfect way to bring the beauty and serenity of a wildflower-painted canyon into your space.