MOISTURIZE NATURALLY WITH BODY OIL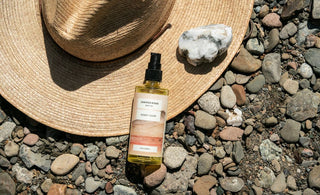 Sometimes I feel all dried out. It's winter, and the air is stiff and cold, and when I move inside for comfort the quick change in temperature can evaporate what little moisture the elements haven't taken. I know not everyone winters in the same ecosystems, but chances are, wind-chapped, sun-baked, or chilled to the bone, your skin could use a little more moisture too.
I was struck by how differently Juniper Ridge body oil was absorbed by my skin. The body oil made caring for my dry skin a little more luxurious, and my skin felt silkier and smoother–and the oil didn't leave a greasy residue.
I started using body oils as a way to show my skin some extra care, but I was also looking for a more natural way to hydrate. Body oils helped get me one step closer to eradicating petroleum-based products from my life. So many moisturizers contain petroleum jellies, other chemicals, and noxious synthetic fragrances. I was drawn to the minimal ingredient list of Juniper Ridge body oils and wondered how these specific oils were nourishing and protecting my skin.
Juniper Ridge makes its line of body oils from a mixture of three oils: organic sweet almond oil, jojoba oil, and coconut oil. The oil base is mixed with Juniper Ridge's signature steam-distilled, sustainably-harvested essential oils. Sweet almond oil is filled with antioxidants, like vitamin E, that support the skin's moisture barrier and prevent sun damage. Coconut oil actually has both antibacterial and anti-inflammatory properties, along with being rich in fatty acids and an all-around deep moisturizer. And Jojoba oil is not actually an oil, but a wax ester, which has a remarkably similar molecular structure to sebum, a substance our own bodies make to moisturize themselves—it can actually mimic our own skin's sebum, deeply penetrating our skin and resulting in deeper hydration, but also balancing out our sebum production, helping decrease the areas where there is perhaps too sebum production taking place, as with oily skin and clogged pores. Juniper Ridge Body Oil is available in five of their signature scents: Cascade Forest, Desert Cedar, Coastal Pine, Redwood Mist, and White Sage.
I was hooked, but it was a new process for me, and it did switch up my bathing and self-care routine. So here are a few tips for using Juniper Ridge's line of body oils:
1) Unlike with lotions, when you use body oil, apply the oil to damp skin, right after a shower or bath. This way the oil helps lock in the moisture from the water and is absorbed more quickly and deeply by the skin. You can apply the oil directly onto your body or into your hands first, and rub it into your skin until absorbed. You can still use body oil on dry skin, but you don't get the added benefit of locking in the water's extra moisture.
2) This tip actually gave me a few extra moments to enjoy the scent of the oils. Start first by pumping 2-3 pumps of oil onto your palm, and warm up in between your hands; then open your hands to enjoy the scent of Juniper Ridge's signature essential oils. Then rub into your skin, until absorbed.
3) If you want to upgrade your bathing regimen, try adding a few drops of oil into your bath. The base oils will soften your skin while you bathe, while the essential oils mix with the warmth and steam to create a transportive aroma.
4) Use the oils in your hair: just one or two drops in your hands, and spread through your hair, taking special care to avoid your roots if they tend toward the oily side.
5) Use the oils to soften and condition dry cuticles: Rub the oil into your nail bed, and extend to your hand and knuckles for extra hydration.