BIODEGRADABILITY IN BODY CARE: EXPLORING THE OUTDOORS WITH JUNIPER RIDGE'S BODY WASH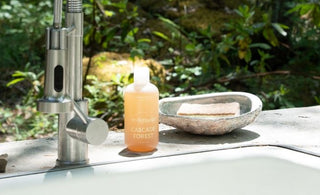 Did you know that the body care products we use can have a significant impact on the environment? Biodegradability is key in reducing ecological harm caused by toxic ingredients found in most body care products.
Understanding Biodegradability in Body Care Products
Biodegradability refers to the ability of a product to break down naturally into harmless substances over time.
Non-biodegradable products, like those containing microplastics or harsh chemical additives, have negative consequences and create long-lasting water pollution. Biodegradable body care products help mitigate these issues, as well as reduce the amount of chemicals coming in contact with and being absorbed by your skin.
At Juniper Ridge, we formulate all of our products with clean natural ingredients for biodegradable products that are healthier for our bodies and the environment. Our Body Wash is made from just a few natural ingredients: organic coconut and sunflower oils, vegetable glycerin, and pure essential oils.
Using Soap Outdoors
When hiking, camping, or spending any time outdoors, make sure the products you bring along are biodegradable. 
Juniper Ridge Body Wash is a versatile, biodegradable castile soap made from organic, 100% plant based ingredients. Use it on the trail or by the kitchen sink as well as part of your bathing routine; and because it's concentrated, a little goes a long way.
Now You Know: When outdoors, use any soap at least 30 meters (100 feet) away from the main water body. When bathing outdoors, dispose of your soap suds and bath water into a 6-inch-deep hole so that the organisms in the soil can quickly biodegrade it and prevent contamination of drinking water sources. While all of our products are completely biodegradable and safe to use outdoors, you shouldn't use them directly in the water. It might not be toxic, but swimming in, consuming, and breathing soapy water is never good for wildlife. 
By using plant derived ingredients and never adding any synthetic preservatives, fragrances, or other toxic additives, we are making sure that when you enjoy Juniper Ridge products you aren't introducing any harmful contaminants into your body or the environment. This goes for our full collection of home fragrance and body care products, including Body Oils, Room Sprays, Natural Incense, Candles, and more.