Cascade Forest Essential Oil Candle
Our Cascade Forest Essential Oil Candle illuminates your home with fragrances reminiscent of the lush forests of the Pacific Northwest. Transporting you to the high elevations where Western Mountain fir and pine trees grow, branching out into some of the freshest air on earth. These Essential Oil Candles are hand poured in our Oakland, CA workshop using pure domestically sourced soy wax and a natural cotton wick. Crafted with clean, natural ingredients and scented with our signature steam-distilled essential oils, our candles are a clean and cozy way to bring the outdoors into your home.
Size: 7 Oz
Geography: Mountain
Scent Notes: Damp Forest Floor, Snapped Fir Needles, Fresh Sap
Ingredients

Glycine max (Soy) Wax, Abies procera (Noble Fir) Essential Oil, Natural Cotton Wick
How to use

For best results with each use, trim your wick to ¼" and allow wax to melt evenly. Burns for approximately 40 hours.

Burning Details

As Always:
Sustainably sourced and harvested
Free of synthetic fragrance, dye, or preservatives
Formulated without parabens, phthalates, petrochemicals
Leaping Bunny certified cruelty free
Made with care in California

Burn no longer than 4 hours at a time. Vessel will be hot when candle is lit, so allow to cool before re-lighting. Never leave burning candle unattended.
Keep out of reach of children, pets, and flammable materials.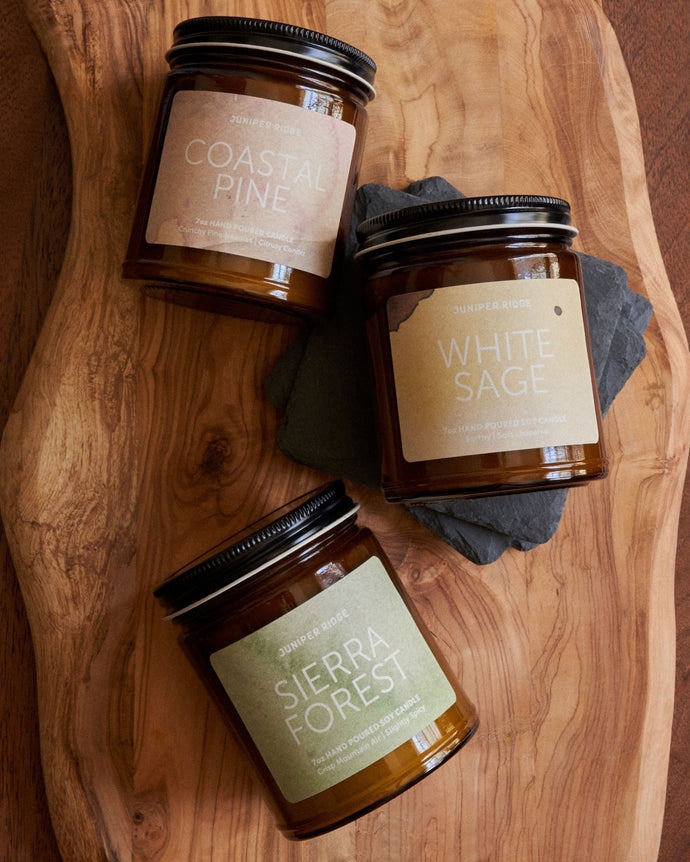 How to Care for your Candle
1. Trim The Wick: Before lighting, trim the wick to 1/4" using scissors or a wick trimmer for a clean, safe burn and increased candle lifespan.
2. Let It Burn: Allow the wax to melt to the edges of the jar every burn to prevent tunneling - especially important on the first burn!
3. Safety First: Never leave a lit candle unattended, and don't burn for more than 4 hours at a time.
4. Reuse: once the candle is finished, clean out the jar and give it another life. They are perfect in your kitchen or bath.