Western Landscapes Candle Set
Illuminate your space with the Western Landscapes Candle Set, evoking the breathtaking geography of the American West. This set of three natural candles is scented with our signature Essential Oils, steam distilled in our Oakland, California workshop–all from sustainably harvested and upcycled native plants to best encapsulate the essence of the wild places we love.
Our Essential Oil Candles are hand poured in our Oakland, CA workshop using pure domestically sourced soy wax and a natural cotton wick. Crafted with clean, natural ingredients, our candles are the perfect way to bring the beauty and serenity of the Western Landscapes into your home.
Light your Coastal Pine Essential Oil Candle and begin your adventure in the fog-drenched coastal forests of California and Cascadia. Scent notes of sticky pine needles, citrusy conifer, crisp ocean air transport you to where Coastal Pine and Cascade Fir form a canopy over the ferns that carpet the ground.
Allow your Cascade Forest Essential Oil Candle to fill your home with fragrances reminiscent of the lush forests of the Pacific Northwest. Transporting you to the high elevations where Western Mountain fir and pine trees grow, branching out into some of the freshest air on earth with scent notes of damp forest floor, snapped Fir needles, fresh sap
Explore the redwood forests of Northern California with your Redwood Mist Essential Oil Candle. Soft fragrances reminiscent of fog drenched forests, fresh rain, and misty coastal air transport you to where some of the world's tallest trees meet the Pacific Ocean.
Size: 7 Oz. each
Geography: Coast + Mountain
Scent Notes: Crisp Coastal Air, Fresh Sap, Damp Forest Floor
Ingredients

100% Pure Soy Wax, House-Made Steam Distilled Essential Oils [Pinus radiata (Monterey Pine), Abies procera (Noble Fir), Abies grandis (Grand Fir), Pseudotsuga menziesii (Douglas Fir), Umbellularia californica (Bay Laurel), Sequoia sempervirens (California Redwood)] , Natural Cotton Wick
How to use

For best results with each use, trim your wick to ¼" and allow wax to melt evenly.
Burning Details

Burns for approximately 40 hours.
Burn no longer than 4 hours at a time. Vessel will be hot when candle is lit, so allow to cool before re-lighting. Never leave burning candle unattended.
Keep out of reach of children, pets, and flammable materials.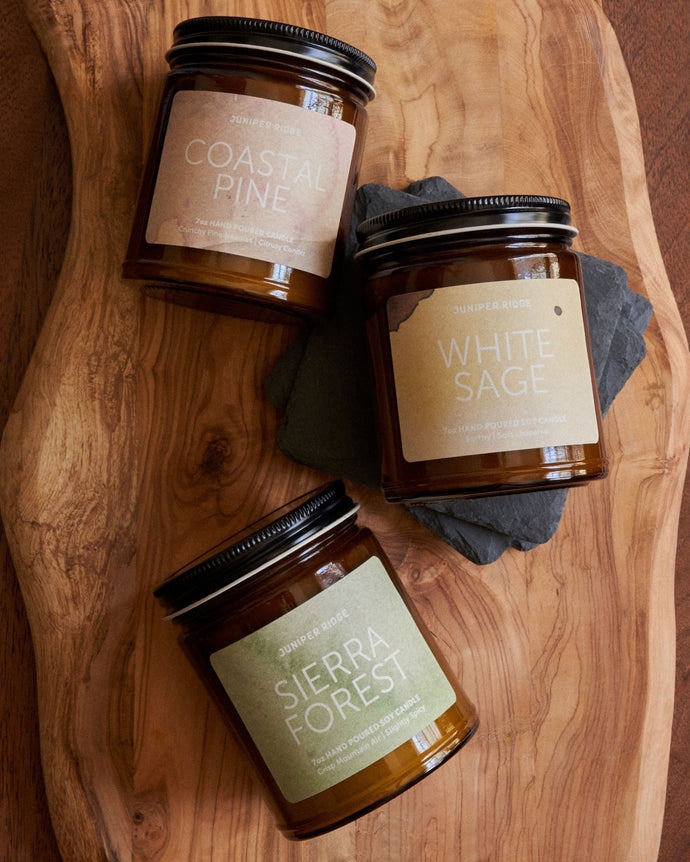 How to Care for your Candle
1. Trim The Wick: Before lighting, trim the wick to 1/4" using scissors or a wick trimmer for a clean, safe burn and increased candle lifespan.
2. Let It Burn: Allow the wax to melt to the edges of the jar every burn to prevent tunneling - especially important on the first burn!
3. Safety First: Never leave a lit candle unattended, and don't burn for more than 4 hours at a time.
4. Reuse: once the candle is finished, clean out the jar and give it another life. They are perfect in your kitchen or bath.